Goma de unión de entretelas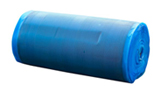 Interply rubber. The formulation of this rubber provides extraordinary properties of adhesion, tear resistance and flexibility, providing excellent vulcanised splice properties. It is available in two thicknesses, 0,8 and 1,6 mm, in a width of 500 mm and in 25 Kg rolls.
Goma coberturas

Uncured cover material with characteristics for the top and bottom covers of the conveyor belt.
Available in thicknesses of 2, 3 & 4 mm, in a width of 500 mm and in 25Kg rolls.
Disolución de caucho

Used in the construction of hot vulcanised splices. Available in multiples of 1 ltr, 5 ltrs and 25 ltrs.
Adhesivo de caucho ELASTOGLUE 2000

Suitable for cold bonding of rubber conveyor belt, fabric and steel. Also for the rubber covering of drums, rollers and chute linings. We recommend ELASTOGLUE 2000 for any application in which it is necessary to bond rubber to metal, rubber to rubber & rubber to fabric.
In order to activate the bonding process, Elastoglue must be mixed with 10 % of RETICULANTE 2000 (hardener).
This product is supplied in 1kg cans, each with the correct amount of RETICULANTE to activate the material.
Elastoglue 2000 is clearly labelled with application instructions and the necessary warnings, in order to facilitate its utilization and to avoid the possible mishaps that incorrect use could create. For large volume users, we offer the option of bulk supply in drums of 270 kg.
Imprimación caucho-metal
Primers are used to promote good adhesion when bonding rubber to metal surfaces. The antioxidant is used for both hot and cold vulcanising. The metal primer is always used following the application of the antioxidant when the chosen bonding method is hot vulcanising.
METALPRIMER PARLOCK: is supplied in quantities of 5 kg.
ANTIOXIDANTE PARLOCK PM 05: iis supplied in quantities of 5 kg.
Parches para reparación de bandas transportadoras
We have many different shapes and sizes in order to fit to the required repair profile.
| Parche en tira | Dimensiones ancho | Unid./ caja |
| --- | --- | --- |
| MRPL 10C | 70 x 10.000 mm. | 1 u. |
| MRPL 20C | 100 x 10.000 mm. | 1 u. |
| MRPL 30C | 150 x 10.000 mm. | 1 u. |
| MRPL 40C | 220 x 10.000 mm. | 1 u. |
| Parche en rombo | Dimensiones ancho | Unid./ caja |
| --- | --- | --- |
| MRPR 10S | 450 x 470mm. | 10 u. |
| MRPR 20S | 135 x 160 mm. | 10 u. |
| MRPR 30S | 200 x 260 mm. | 10 u. |
| MRPR 40S | 270 x 360 mm. | 10 u. |
| MRPR 10C | 450 x 470 mm. Reforzado con Lona | 10 u. |
| MRPR 20C | 135 x 160 mm. Reforzado con Lona | 10 u. |
| MRPR 30C | 200 x 260 mm. Reforzado con Lona | 10 u. |
| MRPR 40C | 270 x 360 mm. Reforzado con Lona | 10 u. |