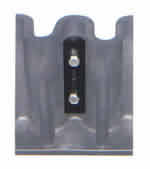 Lateral fastening fittings are made of nylon and allow fixing of the sidewalls to the transversal cleat. Their use is recommended from heights of BSF-140 and above.
Type of fiz
Sidewall type
Screws
NYLONFIX-65
BSF120
M5 X 80
BSF140
NYLONFIX-80
BSF140
M6 X 80
BSF160
BSF180
BSF250
BSF300
MSF300
NYLONFIX-120
MSF300
M8 X 160
MSF350
MSF400
NYLONFIX-150
MSF500
MSF600
BLINKERS
Blinkers are fitted in-between the sidewall and the cleats profile. Their use is recommended only when the material to be transported is very fine and dusty.
Blinkers avoid the transference of materials of materials through the small holes between the sidewalls and the cleats.