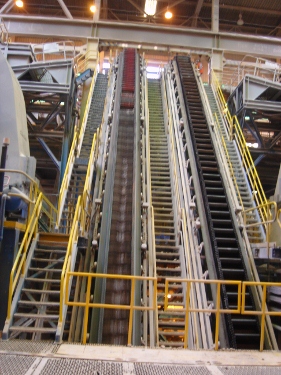 Beltsiflex conveyor belts with sidewalls and cleats, hot vulcanised to their band, which provides greater security, stability and durability to the entire structure.
These product developments are primarily designed for transportation on very inclined planes (up to 90 º) and can be adapted to multiple morphologies of conveyor.
Moreover, the use of hot vulcanisation permits working with smaller diameters in the structure, as well as storing bands for long periods without detriment to the adhesion of the elements to the base band during these periods.
Space savings due to the possibility of raising the material completely vertically on one conveyor, thus eliminating intermediate transfer points.
Multiple qualities of rubber to suit the nature of the product to be transported. Qualities such as: Abrasion resistant, Heat resistant (up to 200 °C), Oil resistant, Flame retardant, Alimentary
See form for technical consultation